"Meeting the Prince, the nobles and the big names"
After opening his Cafe Rabien in Potsdam in 1878, Ernst Rabien was given the title of Purveyor to the Court of Prince of Hohenzollern. Among the guests were royals, officers, locals and tourists.
The corner building at the Nauener Gate in the Dutch Quarter was the meetingpoint to savour the cakes and sweets of the Rabien Confectionery. Many hackneys travelling from Potsdam train station to the Marble Palais or to the Pfingstberg Belvedere used to stop at Rabien's for a coffee break.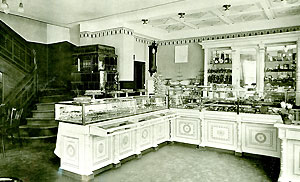 In 1932, Hugo Rabien decided to move the confectionery near the Brandenburg Gate in Potsdam, not far from the main entrance to the Park and Castle of Sanssouci.
The confectionary often welcomed the UFA film stars as guests, besides Berlin notables and tourists from all around the world.

Due to the political situation after World War II, the family was forced to move to Berlin-Steglitz in 1952. Here in the western part of the city, the Rabien Confectionery took the chance for a re-start. The renowned craftsmanship lead their business back to success.
When Klaus Rabien took over in 1970, he expanded deliveries throughout Germany and to the rest of the world. Today, Johannes Rabien, grand grandson of the founder, heads the family business.
Rabien Tradition and the Far East
Business contacts to the far east were further developed, and todaythe Rabien treecake consequently enjoys great popularity, regularly available in japanese department stores and speciality shops.
A compliment came from Japan, Nobel Prize Laureate in Literature Kenzaburo Oe:
For Mr. Klaus Rabien, with respects and thanks, especially to your effort to introduce the true Baumkuchen in Japan! Kenzaburo Oe, 8th April 06.

Generations change - our tradition remains
For many generations, the Rabiens have been dedicated to the highest quality standards for their traditional handwork. Today, the business is run in the fourth generation by Johannes Rabien, and we are excited about the next developments, our tradition is going to make.
---